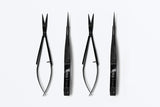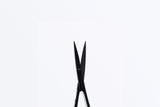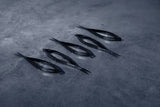 Multiuse Precision Scissors
The first cut is the deepest, baby we know... and, our versatile Revo tweezers will have you falling deeply in love. Created for trimming, grooming, and all your cutting needs, our tweezers are a must add to your lashing accessory arsenal.
These scissors promise ultimate control and easy handling. With a fine, sharp, high-precision blade, they easily slice through lashing tape as well as gel and foam pads to assist throughout your lashing services.
We love using them to polish up brows before snapping the perfect lash pic. And of course, they make a great addition to your retail shelf for your clients brow grooming needs!

Unlike the standard manicure scissors you may be used to, these scissors are manufactured to be soft-grip with a spring-back mechanism and an easy to angle design.

Stainless steel with a liquid black finish that ensures not only a luxe look, but also easy sterilization with no rusting.

Did we miss anything? Don't think so.
For bulk retail purchase, please email hello@revolashion.com