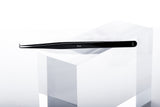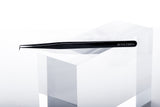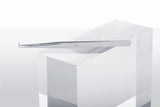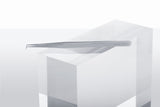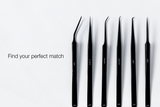 Looking to create a killer set?...Choose the right weapon.
It's no secret that the right tweezer can facilitate the execution of a  perfect set - and our ever growing collection has one to cover every angle.
A sharp 90° angle, optimized tension, a perfected fine blade and tip to help you tackle the tinniest of lashes the utmost control. 
Slim, elegant and dripping in liquid black or chrome, our lightweight and precise isolation tweezers perform effortlessly with the slightest tension. 
Fabricated with highly durable Japanese surgical grade steel, and with a combination straight, angle and curve, this sexy little number is perfectly suited to pin down the thinnest of lashes. 
* THESE TWEEZERS ARE NOT ELIGIBLE FOR RETURNS.  
SPECS
Finish: Jetblack plasma or chrome

Angle: Sharp 90 ° angle

Length: 14 cm

Width: 7 mm

Weight: 0.5 oz

Tension: soft (adjustable to medium)

Suitable for sterilization by autoclave

Intended for: Isolation
SANITATION
Follow this two-step process to ensure that your tools are safe for reuse. First, clean off any debris or residue with alcohol or acetone wipe. Second, fully immerse tweezers with EPA approved disinfectant and let air dry prior to next use.

Do not immerse tweezers in acetone, bleach or any ammonia-based solvents as this can dull the finish. 

Do not leave tweezers immersed in disinfectant for extended periods.
STORAGE
Store in a sterile and closed container after sanitation.
Protective storage is recommended to preserve precision and integrity of the tweezer